Designed for those in the industry who serve, purchase or brew beer. This course can be taken online or in person. Successful candidates will be able to use the title Sommelier of Ale (SA) and receive a certificate suitable for framing and lapel pin.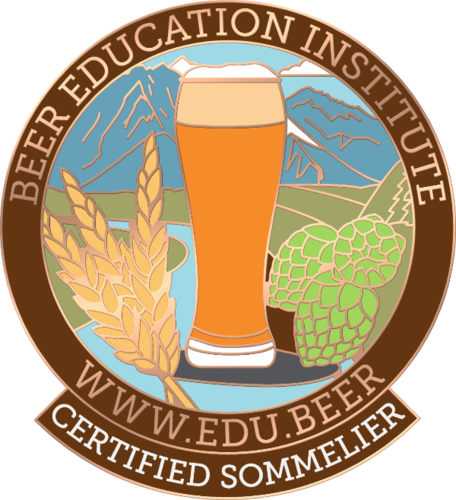 Taken either in class or online. Classes are available upon request and are also taught regularly at our Denver classroom location.

Online classes start the first of every month, and you will have 6 months to take the exam.

Please note that the Complete Beer Course is a required text for the course. You may purchase the book in any format desired, but will need to provide us the Amazon order number for verification.

Curriculum for this course includes:



History of Beer


The Ingredients

Grains
Hops
Water
Yeast
Gluten Free Beers



The Brewing of Beer



The Process
Fermentation
Alcohol
Carbonation




Styles of Beer


Lagers, Pilsners and more cold fermented creation


Munich Dunkel
Bock
Dopplebock
Vienna Lager>
Czech Pilsner
German Pilsner
American Lagers
California Common
Kolsch



Witbiers, Hefeweizen and more cloudy wheat beers


Hefewweizen
Dunkelweizen
Berliner Weisse
Gose
American Pale Wheat



Pale Ales


English Pale Ale
American Pale Ale
Amber Ale



IPAs


East Coast IPA
West Coast IPA
Pacific Northwest IPA



Trappist & Abbey-Style Ales


Trappist Beers
Single/Enkel
Dubbel
Tripel



Stouts and Porters


Porter
British and American Porter
Dry Irish Stout
American Stout
Oatmeal Stout
Dry Imperial Stout



Barley Wines and Related Styles


English Style Barley Wine
American Style Barley Wine



Tasting & Pairing Beer


Apperance, Aromas, Taste and Conclusion
Positive and Negative Characteristics
Pairing with Food
Examples






You can expect to spend about 20 hours studying the materials or in class prior to taking the exam. You will be permitted one exam re-take but you must wait 2 weeks before re-taking the exam.