Available Classes
The Beer Education Institute offers 2 professional levels and one level for the passionate consumer although you do not need to be in the industry to take any of our courses. Everyone is welcome to attend!
Certified Beer Lover
The Certified Beer Lover course is a fun and educational way to learn more about the world's favorite beverage. You'll start with an overview of what goes into beer, then see how to make it. We'll continue to an overview of the worlds major categories of beer and what makes them different. Finally we'll show you have to taste beer, at least in a professional manner! You'll have to take a quiz to show you were paying attention and then we'll provide you with a certificate that officially declares you an official "lover of beer". Most beer lovers spend about 6 hours with the materials before the exam, but you can take up to 3 months to take the exam.
Sommelier of Ale
The Sommelier of Ale course is the first level for those wanting an industry grade certification on beer, beer styles, beer pairing and more. It is required before taking the Advanced Sommelier of Beer course but you do not need to take the Beer Lover course first.
We'll study the grains, hops, water, and yeast as well as how they are combined at a brewery. We'll walk you through the steps including millling, mashing, sparging, boiling fermenting through to conditioning. We'll also cover alcohol and carbonation processes.
Then it's on the the styles of beer, the bulk of the course. Here you'll explore lagers, witbiers, pale ales, IPAs, Trappists, Stouts and Barley Wines. Afterwards we'll discuss tasting, pairing, service, storace and the equipment needed to properly handle beer in the marketplace.
Estimated study hours for this level are 40 hours, but you have 6 months to take the exam from the day your session begins.
Success at this level requires passing an online exam, whereby you'll receive a lapel pin and beautiful diploma suitable for framing.
Advanced Sommelier of Beer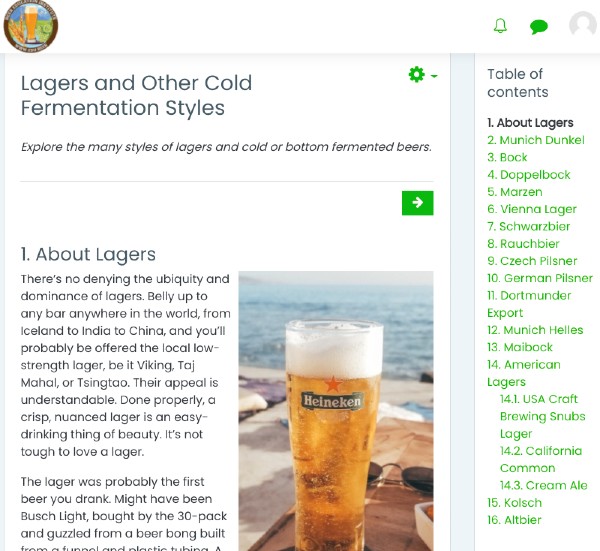 The Advanced Sommelier of Ale course is a intense dive into the vast world of beer styles. You'll build on the foundation of the SB course but go much deeper into every style of beer. The picture at the right shows just the lager section of study.
You can proceed at your own pace and take up to six months to get the theory portion done.
You must pass the theory section with at least 75%. A sample question might entail you knowing the difference between the Rachbier and Schwarzbier listed here or how to spot DMS on a beer. This exam is done online and is timed.
You'll then also have to pass a blind tasting of 8 beers in person. Tasting exams are held multiple times a year in Denver.
Passing either section means you do not have to take that exam again. For instance if you pass tasting and not theory, you need only re-take theory,