American Pale Ale

Sweetwater 420 Extra Pale Ale
SweetWater Brewing Company ABV: 5.4%
During the South's sticky, sauna- like summer (and most of the spring and fall, for that matter), few brews quench thirst quite like Atlanta-based SweetWater's flagship, a favorite since 1997. The key to the crisp West Coast– influenced pale ale's success is the combination of Cascade and Centennial hops, which provide plenty of citrusy pleasure harmonized by soft and sweet malt. It's the epitome of a six-pack beer.
Buy on Drizly
---

Peeper Ale
Maine Beer Company ABV: 5.5%
Launched by the brothers David and Daniel Kleban in a garage, the wind-powered Freeport brewery is committed to "do what's right." That means donating 1 percent of its sales to environmental groups, plus packaging its straightforward, balanced ales in elegant 16.9-ounce bottles decorated with clean and simple labels. My favorite is Peeper, a dry-drinking pale ale that is bursting with a sunny scent. If you like a hoppier pale ale, opt for the piney and citrusy MO.
Buy on Drizly
---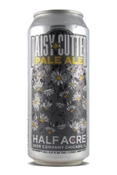 Daisy Cutter
Half Acre 5.2% ABV
Daisy embodies what we like best about the American pale ale: it offers ample hop fragrance and enough bitterness to enliven your palate without knocking your noggin clean off your shoulders, as is often the case with countless IPAs and imperial IPAs.
Buy on Drizly
---
$5 Off Next Purchase by using code DRIZLYDEAL