American Porter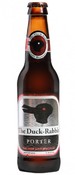 Duck-Rabbit Porter
Duck-Rabbit Craft Brewery ABV: 5.7%
Dark beer is the modus operandi for North Carolina's Duck-Rabbit. We've never sipped a subpar Duck- Rabbit brew, and that's why we think you'll dig this handsome robust porter. It tastes like a dark chocolate truffle encasing a core of cold-brewed coffee, and a few scoops of oats make for smooth and silky sipping. In other words, it might be your new favorite beer.
---

Black Butte Porter
Deschutes Brewery ABV: 5.2%
Deschutes did not take the easy route. When the Oregon brewery was founded in 1988, it made the bold move to launch with the boldly dark Black Butte Porter. That might have been the smartest decision it ever made. The chocolaty porter has since become Deschutes's flagship brew, in large part because of its smooth wheat-driven mouthfeel and a lingering peck of hop bitterness on the finish.
---
$5 Off Next Purchase by using code DRIZLYDEAL