Belgian Golden Strong Ale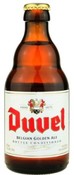 Duvel
Brouwerij Duvel Moortgat ABV: 8.5%
Creating the style's gold standard requires a 90-day process featuring four different kinds of French barley, two different doses of sugar, additional yeast to spur a second fermentation in the bottle, and a lengthy stint in both warm and cold cellars. The end result is a dazzling blonde beauty that's spicy and strong, light and floral, and clean and compulsively drinkable. Be careful or that concealed alcohol will sneak up and take you by surprise.
Buy on Drizly
---

Delirium Tremens
Brouwerij Huyghe ABV: 8.5%
You know life has taken a terrible turn for the worse when you have delirium tremens, the shaking frenzy that accompanies alcohol withdrawal. But life is going irrefutably right when you have a tulip glass full of Delirium Tremens. A trio of yeast strains creates a peppery, fruity, and clandestinely boozy treat with honeyed sweetness and a lingering bitterness on the back end. P.S. The Delirium range also includes dark Nocturnum and spiced Noël.
---
$5 Off Next Purchase by using code DRIZLYDEAL