Black IPA

Pitch Black IPA
Widmer Brothers Brewing ABV: 6.5%
Originally a one-off, Pitch Black was so beloved that the long- running Oregon brewers decided to elevate it to year-round status. You'll understand after one sip of the obsidian indulgence. Its scent is full of ripe fruit and nutty malt, with a bit of coffee that snuggles up nicely to hops. Also fun: Widmer's Rotator IPA series, which features new hop breeds and unique interpretations of the style.
---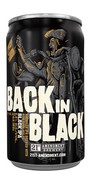 Back in Black
21st Amendment Brewery ABV: 6.8%
San Francisco's 21st Amendment makes a number of canned bitter beers that make you rethink the aluminum container, including Brew Free! or Die IPA, Hop Crisis Imperial IPA (aged on spirals of oak designed to infuse flavor), and this ride on the dark side that decants a handsome mahogany. On the nose, there is a floral perfume of pine and citrus, with a bit of cocoa nibs. Don't let the color deceive you: it's a very easy drinker.
---
$5 Off Next Purchase by using code DRIZLYDEAL