Cream Ale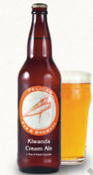 Kiwanda Cream Ale
Pelican Pub & Brewery ABV: 5.4%
Kiwanda is doubtlessly the cream of the crop. We fell under the sway of this cream ale at the Great American Beer Fest, where I returned to Pelican's booth time and again to guzzle the ale, which is as golden as an Olympic medal. Kiwanda's snippet of malt sweetness is complemented by a refreshing carbonation, delicately floral hops, and a honeyed finish. It's no wonder Pelican has crafted Kiwanda since 1996.
---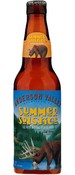 Summer Solstice
Anderson Valley Brewing ABV: 5.6%
This California's brewery's Boonville home is a curious locale with its own lingo, Boontling. Therefore, I'll use the local dialect to describe the coppery ale with a creamy mouthfeel: "aplenty bahl steinber horn," which means "really great beer." On the palate, expect a medium body, lots of caramel malts, and a lick of citrus and sweetness that keeps Solstice compulsively sippable. You'll likely enjoy a heelch of 'em.
---
$5 Off Next Purchase by using code DRIZLYDEAL