English IPAs

India Ale
Samuel Smith ABV: 5%
Since 1758, this British brewery (the oldest in Yorkshire) has cranked out balanced ales brewed with well water drawn from 85 feet underground and fermented in stone fermenting vessels known as Yorkshire squares, which help give its beers a fuller body. The golden India Ale boasts a sweet 'n' spicy scent, as well as a civilized flavor of toasted bread spread with fruity hops.
---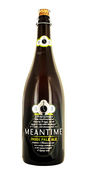 India Pale Ale
Meantime Brewing Company ABV: 7.4%
London-based Meantime specializes in re-creating iconic British beers such as this tribute to the era of the British Raj. Mounds of fruity, earthy Fuggles and lightly sweet East Kent Golding hops help create this creamy ride that rolls across caramel, toffee, and bitter speed bumps, then detours to biscuits, tea, and a dry finish.
---
$5 Off Next Purchase by using code DRIZLYDEAL