Weizenbock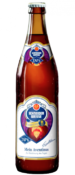 Schneider Weisse Tap 6 Unser Aventinus
Private Weissbierbrauerei G. Schneider & Sohn GmbH ABV: 8.2%
Ruby-colored Aventinus is one of those rare beers that'll give you pause, slamming on your sipping brakes so that you take your sweet time to unfold its algebra-complex layers of flavor. I'm talking plums, raisins, ripe bananas, cloves, and chocolate wrapped around a silky, negligee-like smoothness. The doppelbock will warm you like a wool coat, too.
---

Weihenstephaner Vitus
Bayerische Staatsbrauerei Weihenstephan ABV: 7.7%
Back in 1040, Weihenstephan was the house brewery for an order of Benedictine monks, reportedly making it the world's oldest continually operated brewery. Practice, it follows, makes perfection with this surprisingly straw-yellow potion that packs a hefeweizen's classic but far more intensified profile of cloves, banana bread, tangy citrus, and sweet malt. Vitus is like a hefeweizen that's been working out at the gym.
---
$5 Off Next Purchase by using code DRIZLYDEAL